Apple's 14.5 updates to iOS sent advertisers and other platforms (we're looking at you, Facebook) scrambling to figure out how to track users who block the Apple ID for Advertisers (IDFA). Another update — iOS 15 — is coming this fall, and it promises further restrictions around location data and IP addresses.
Table of Contents
IDFA changes provide new opportunities to engage mobile consumers
According to our data, however, these choices around IDFA could well be a boon that delivers higher value audiences for advertisers. Over the past few months, PubMatic assessed the impact of the IDFA policy changes by studying some 1 trillion daily programmatic bids, including ancillary information such as impressions, revenue, and eCPM data.
Were buyers rushing to shift programmatic advertising to Android devices because of new IDFA restrictions? The numbers say yes. From May to July, the share of mobile app spending on Android rose from 54% to 63%, while ad spend share on iOS fell from 46% to 37%.
But the road to privacy protection is still changing.
The initial impact of the iOS 14.5 roll-outs lowered IDFA presence in ad requests by 30 percentage points. As the adoption of 14.5 iOS has grown, making restrictions more widespread, roughly two-fifths of these same users embraced opt-in ad requests and are continuing to expand. Sure, iPhone customers want their data protected; they are also open to receiving ads under app-tracking restrictions when they can receive some sort of return for watching ads.

Source: PubMatic
Apps themselves contain troves of behavioral and contextual data on audiences and individuals, and the opt-in choice sustains accurate targeting.
Every advertiser knows that consumers who grant permission to be served ads are always more valuable than those who accept volumes of unfettered messages (our research found that they are more than twice as valuable). Opt-in App-Store customers are even more so because iOS users tend to have higher incomes than Android users, and their spending is also higher in verticals that correspond to their app usage and interests.
Just because App Store users must now grant permission to be tracked, doesn't mean there aren't myriad ways for advertisers to reach and engage with them. It is critical to understand which consumers want to engage and how.
For example, users who download commerce, business, and gaming apps from the App Store are more likely to opt-in to receiving ads, according to PubMatic's analysis. These audiences want to know about new products, the latest news, and game titles, and so they will allow targeting. Conversely, users of personal finance apps on iPhone tend to want to keep that information private if they are using apps to manage budgets, investments and track credit scores.
IDFA presence by app category in iOS 14.5+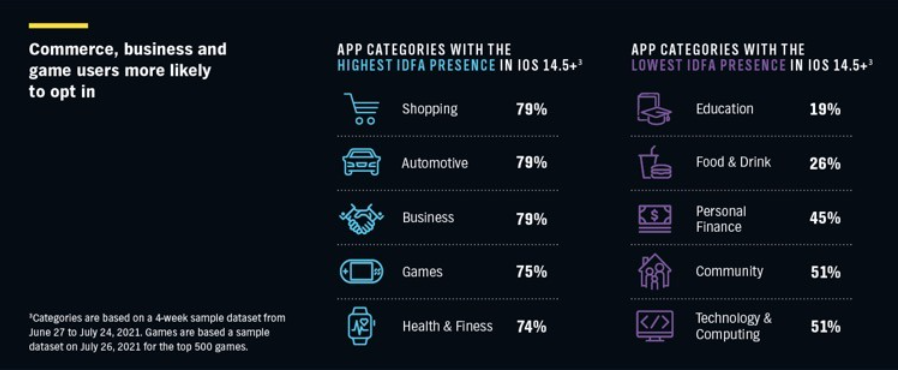 Source: PubMatic
Making optimal use of information obtained from users who opt-in to tracking is a no-brainer. The window for capitalizing on these targeted opportunities from low-cost, high-value impressions won't stay open indefinitely.
Advertisers, their agencies, and publishing partners soon will get smarter about new approaches to mobile engagement.
The roll-out of Apple's iOS 14.5 lowered IDFA presence in ad requests by 30 percentage points. However, PubMatic platform data suggests consumers are increasingly opting-in while 14.5 OS adoption becomes more prevalent.  
PubMatic assessed the impact of the IDFA policy changes by analyzing 1 trillion daily programmatic bids, including metrics such as impressions, revenue, and eCPM data. This report provides an in-depth look into: 
The growth of IDFA opt-ins 

 

Difference in value of an opted-in versus an anonymous user

 

Which consumers are more likely to 

opt

 

in

 

The shift in 

advertiser

 spend

ing

 

among mobile 

operating systems